Piero di Cosimo (c. 1462-1521, aka: Piero di Lorenzo) studied under Cosimo Roselli (d. 1507) (his namesake) and joined the Confraternity of Saint Luke around 1504 and the Guild of Doctors and Apothecaries spring of that same year. Piero is also influenced at least by the idea of alchemy, and one can follow a theme of or concern with transformation throughout his work.
The Discovery of Honey, 1505-1510. (Aptly painted for the vespine-named Vespucci family)
Detail 1 of above - satyrs
Detail 2 of above - hollow tree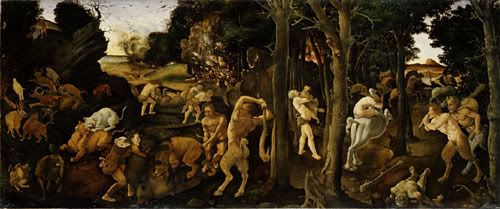 Hunting Scene, 1490.

Click the MMA webpage for more information on this painting in their collection. This is one of three panels that have been linked together, in which Piero depicts "the growth of civilization through the control of fire". MMA, 10/17/07.






























Visit with St. Nicholas and with St. Anthony Abbott, c. 1490.
Madonna and Child, 1485-1500.
Nativity with the Infant St. John, c. 1500.
Allegory, 1500.
The Finding of Vulcan on Lemnos, c. 1495-1505.

Vulcan/Hephaistos is a key god associated with transformation and fire, and therefore, alchemy.






























Vulcan and Aeolus, c. 1495-1500.

(Vulcan is the smith god and god of fire, and Aeolus is the god of the winds - they were like mythological business partners.)






























The Death of Procris, 1510.
Venus and Mars, Piero di Cosimo, c. 1510.

Piero di Cosimo also known as Piero di Lorenzo, 1462–1522.

This and