Baroque Rome

In the seventeenth century, the city of Rome became the consummate statement of Catholic majesty and triumph expressed in all the arts. Baroque architects, artists, and urban planners so magnified and invigorated the classical and ecclesiastical traditions of the city that it became for centuries after the acknowledged capital of the European art world, not only a focus for tourists and artists but also a watershed of inspiration throughout the Western world.

Painting and the Decorative Arts

The concentration of willing patrons in Rome attracted artists from all over Europe, and painters continued to argue the primacy of technique based alternatively on drawing (disegno) or coloring (colorito). Among the artists hailed for reconciling the two approaches was the Bolognese-born Annibale Carracci (1560–1609), who applied his gifts as both draftsman and colorist to the emerging genre of landscape as well as traditional religious subjects; his Coronation of the Virgin (1971.155), for instance, combines a compositional scheme derived from Michelangelo with subtle lighting in the spirit of Titian. In a famous public debate probably conducted in 1636, Andrea Sacchi (1599–1661), whose Marcantonio Pasqualini Crowned by Apollo (1981.317) displays his reliance on drawing, made claims for compositions with few figures and pure contours, while Pietro da Cortona opposed him, advocating instead great assemblies of figures and freer brushwork. Sacchi's influence is visible in the work of the French painter Nicolas Poussin (1594–1665), who made his career in Rome, painting scenes from biblical and classical history; in his Abduction of the Sabine Women (46.160), he uses bold colors, sharp contours, and figures derived from Greco-Roman sculpture, all characteristic of his art. The exuberant theatricality of seventeenth-century projects on an urban scale also animates smaller examples of sculpture and decorative art. Bernini's early Bacchanal (1976.92) includes figures in characteristic twisting poses in a composition different from every point of view. Giovanni Giardini's holy-water stoup (1995.110) depicts Saint Mary of Egypt in a concave silver panel framed in lapis lazuli, and Michele Todini's harpsichord (89.4.2929) carried by tritons of gilded wood is conceived as the centerpiece of a mythic musical contest.

Jean Sorabella
Independent Scholar [MMA, 12/06/07.]
Cardsharps, Caravaggio, c. 1594.
Michelangelo Merisi da Caravaggio, 29 September 1571 – 18 July 1610, Italian, active in Rome, Naples, Malta and Sicily between 1593 and 1610. He is commonly placed in the Baroque school, of which he was the first great representative - famous for chiaroscuro, infamous for his bar brawls and murder.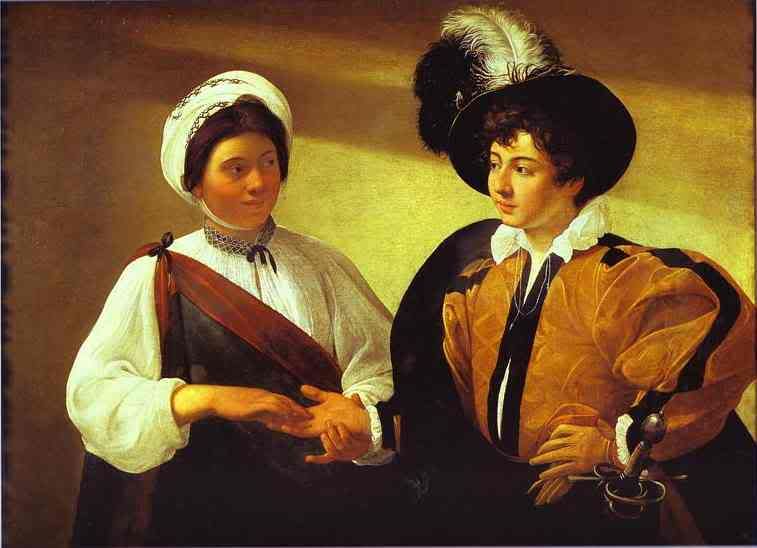 The Fortune Teller, Caravaggio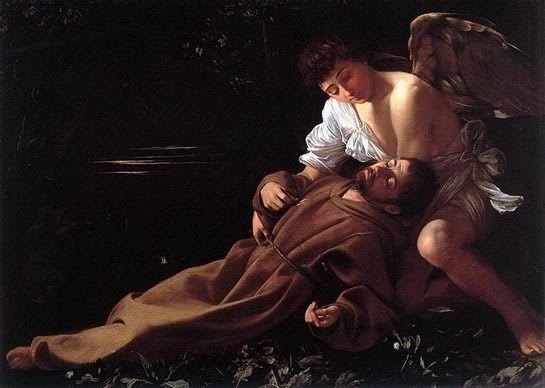 The Ecstasy of St. Francis of Assisi, Caravaggio, c. 1595.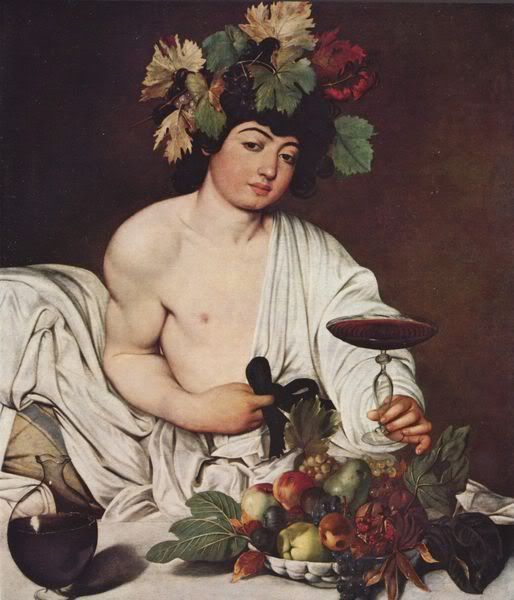 Bacchus, Caravaggio, c. 1596.
Penitent Magdalene, Caravaggio, c. 1597.
Medusa, Caravaggio, c. 1597.
David Beheading Goliath, Caravaggio, c. 1599.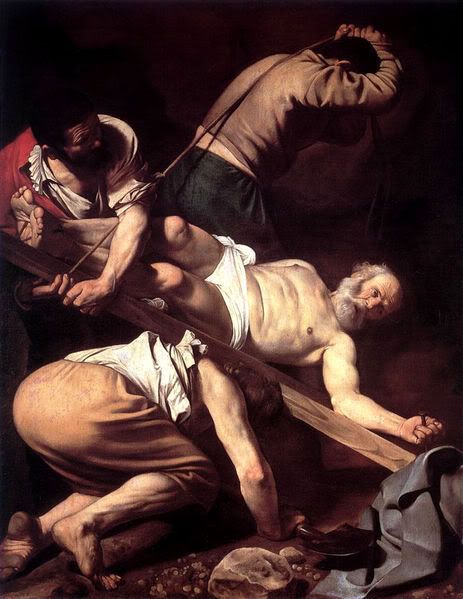 The Crucifixion of Peter, Caravaggio, 1601.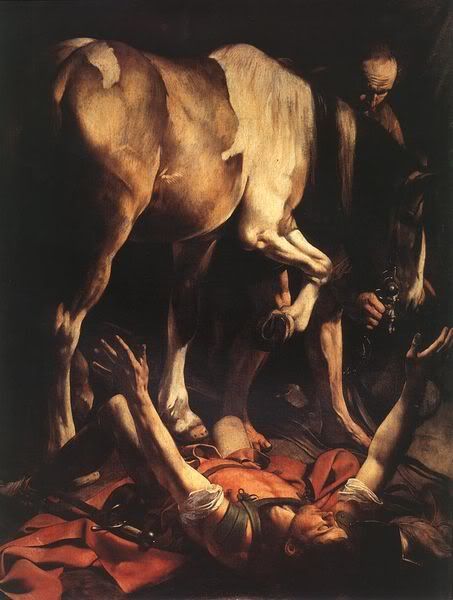 The Conversion of St. Paul on the Way to Damascus, Caravaggio, 1601.
Death of the Virgin, Caravaggio, c. 1604.
Salome with the Head of John the Baptist, Caravaggio, 1609.
Judith Beheading Holofernes, Caravaggio, 1598-1599.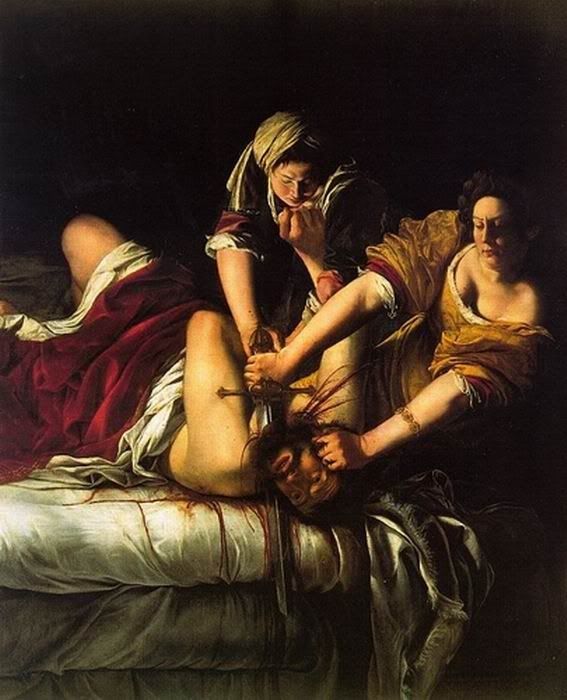 Judith Beheading Holofernes, Artemisia Gentileschi, 1614-1620.
Artemisia Gentileschi, July 8, 1593 – c.1653, Italian. Today considered one of the most accomplished painters in the generation.
Judith and Her Maidservant, Artemisia Gentileschi, c. 1612-1613.
Susanna and the Elders, Artemisia Gentileschi, c. 1610.
Self-Portrait as the Allegory of Painting, Artemisia Gentileschi, c. 1630s.
David, Bernini, 1623.
Giovanni Lorenzo Bernini, Italian, December 7, 1598 – November 28, 1680.
Diskobolos (Discus Thrower), c. 460-450 BCE, Marble, Museo delle Terme, Rome. Original bronze attributed to Myron.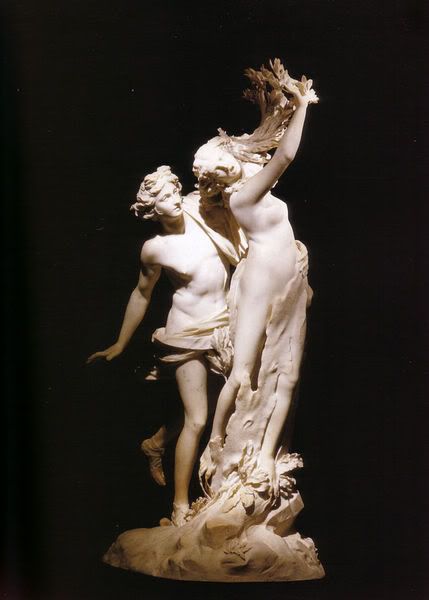 Apollo and Daphne, Bernini, 1622-1625.
The Feast of Bacchus, Velazquez, 1629.
Diego Rodríguez de Silva y Velázquez, June 6, 1599 – August 6, 1660, Spanish, commonly referred to as Diego Velázquez, the leading artist in the court of King Philip IV.
Juan de Pareja, Velazquez, 1650.
Las Meninas (The Maids of Honor), Velazquez, 1656.
Las Meninas, Pablo Picasso, Spanish, 1957.
Las Meninas, Joel-Peter Witkin, American, 1987.
Christ on the Cross, Velazquez, 1632.
The Crucifixion, Zurbarán, 1627.
Francisco de Zurbarán, November 7, 1598 – August 27, 1664, Spanish. He is known primarily for his religious paintings depicting monks, nuns, and martyrs as well as his use of theatrical lighting (chiaroscuoro). He is known as the Spanish Caravaggio.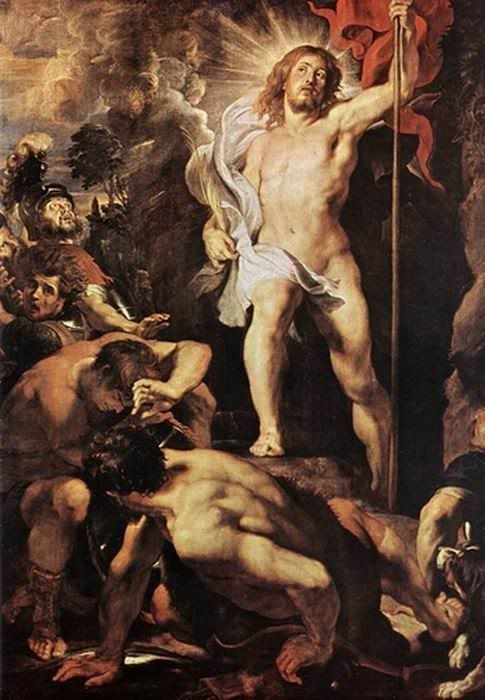 The Resurrection, Peter Paul Rubens, 1614.
Peter Paul Rubens, June 28, 1577 – May 30, 1640, Flemish, a prolific seventeenth-century painter. His work is noted for its overtly fleshy and earthy qualities.
Helene de Fourment, Rubens, 1638.
The Raising of the Cross, Rubens, 1610-11.
The Massacre of the Innocents, Rubens, c. 1611.
The Holy Innocents, Giotto, Italian, c. 1304-06.
Additional Resources:

MMA Exhibition: Tapestry in the Baroque: Threads of Splendor

Gian Lorenzo Bernini (1598–1680)

Caravaggio (Michelangelo Merisi) (1571–1610) and his Followers

Painters of Reality: The Legacy of Leonardo and Caravaggio in Lombardy

Orazio and Artemisia Gentileschi: Father and Daughter Painters in Baroque Italy

Diego Rodríguez de Silva y Velázquez (1599–1660)

European Tapestry Production and Patronage, 1600–1800