Joel-Peter Witkin (born September 13, 1939, in Brooklyn, New York City). He was born to Jewish father and a Roman Catholic mother. His parents divorced when Witkin was young because they were unable to transcend their religious differences. He attended grammar school at Saint Cecelia's in Brooklyn and went on to Grover Cleveland High School. He worked as war photographer between 1961 and 1964 during the Vietnam war.
Witkin, Obscure Saint, 1990s
Donatello's David, 1408-1409.
Saint Agatha
Garden of France, Max Ernst, 1962.
The Dwarf Sebastian de Morra, Diego Velázquez (or Velásquez), 1643-44.
Head of a Dead Man, 1990.
Salome with the Head of John the Baptist, Sandro Botticelli, c. 1488.
The Birth of Venus, Sandro Botticelli, c. 1485.
Untitled, Sally Mann, 2000.
Witkin, Apollo and Daphne in the Garden of Olives, 1990.
Witkin, Portrait as a Vanité, New Mexico, 1994.
Witkin, History of the (White) World: Venus and Magdalene, Paris, 1994.
Witkin, Woman on a Table, New Mexico, 1987.
Venus de Milo
Witkin, Le Basier, 1982.
Constantin Brancusi, The Kiss, 1907.
Witkin, Cupid and Centaur in the Museum of Love, 1992.
Witkin, Woman Once a Bird, 1990.
Self-Portrait with Corrections, Jerome Witkin (Joel's twin brother), 2002.
Vincent and Death, Jerome Witkin, 1987.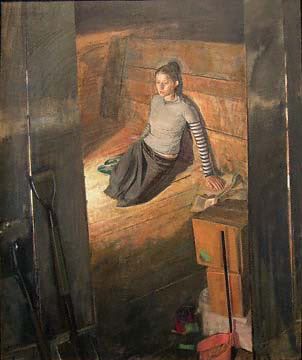 The Silence, Jerome Witkin, 2003-04.
The German Girl, Jerome Witkin, 1997.
Andres Serrano (born August 15, 1950) Serrano is from a half Honduran, half Afro-Cuban background and was raised a strict Roman Catholic. The New-York-born artist studied from 1967 to 1969 at the Brooklyn Museum and Art School, and lives and works in New York.
Serrano, Piss Christ, 1987.
This piece was a winner of the Southeastern Center for Contemporary Art's "Awards in the Visual Arts" competition,[1] which is sponsored in part by the United States National Endowment for the Arts, which offers support and funding for projects that exhibit artistic excellence.
Serrano, Piss Discus, 1988 (from The Fluids Series).
Serrano, Untitled VII (Ejaculate in Trajectory), 1989.
Serrano, Klansman, 1990.
Serrano, The Interpretation of Dreams (The Death of Superman), 1996.
Serrano, The Morgue Series: Rat Poison Suicide, 1992.
Robert Mapplethorpe (November 4, 1946 – March 9, 1989) was an American photographer, famous for his large-scale, highly-stylized black & white portraits, photos of flowers and male nudes. The frank, erotic nature of some of the work of his middle period triggered a more general controversy about the public funding of artworks. Mapplethorpe was born and grew up as a Roman Catholic in Floral Park, Long Island, New York, of English and Irish heritage. He received a B.F.A. from Pratt Institute in Brooklyn, New York, where he produced artwork in a variety of media. Mapplethorpe took his first photographs soon thereafter, using a Polaroid camera. In the mid-1970s, he acquired a large-format press camera and began taking photographs of a wide circle of friends and acquaintances, including artists, composers, socialites, pornographic film stars, and visitors to the underground sex clubs. During the 1980s, his photographs became more refined with an emphasis on formal beauty. He concentrated on statuesque male and female nudes, delicate flower still lifes, and formal portraits of artists and celebrities.
Mapplethorpe, Flag, 1977.
Mapplethorpe, Lisa Lyons, 1981.
Mapplethorpe, Patti Smith, c. 1975.
Mapplethorpe, Irises, 1982.
Georgia O'Keeffe, Black Iris, 1936.
Mapplethorpe, Man in Polyester Suit, 1980.
Mapplethorpe, Calla Lily, 1986.
Mapplethorpe, Philip Prioleau, 1983.
Mapplethorpe, Calla Lily, c. 1986.
Mapplethorpe, Untitled, 1980.
Mapplethorpe, Untitled Skull, c. 1980.
Andy Warhol (August 6, 1928 – February 22, 1987) , Skull, 1976.