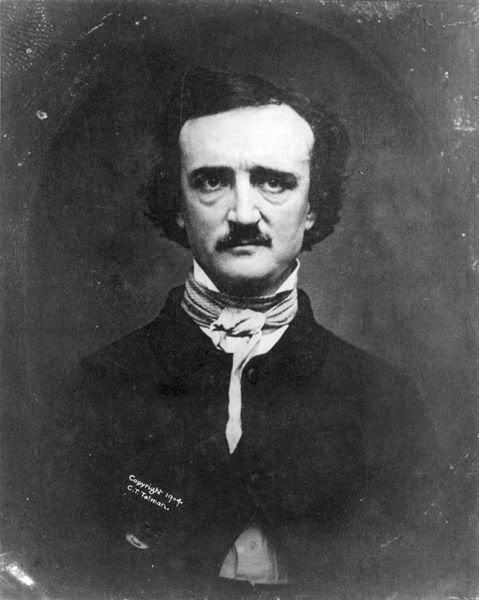 Edgar Allen Poe, (January 19, 1809 – October 7, 1849).
Daguerreotype taken in 1848 - one year before his death.
"The Cask of Amontillado"
Woman with a Parrot, 1760-61, Giovanni Battista Tiepolo, 1696-1770.
Although Tiepolo did from time to time produce excellent portraits, this luminous painting may not be a portrait at all. It is, however, almost a symbol of eighteenth-century grace. [Source]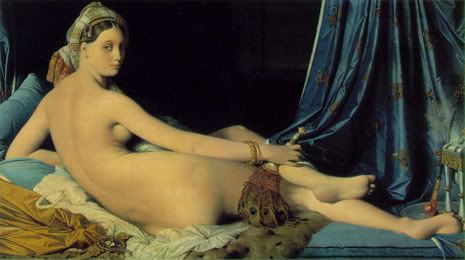 Le Grande Odalisque, 1814, Jean-Auguste-Dominique Ingres, French Neoclassical Painter, 1780-1867.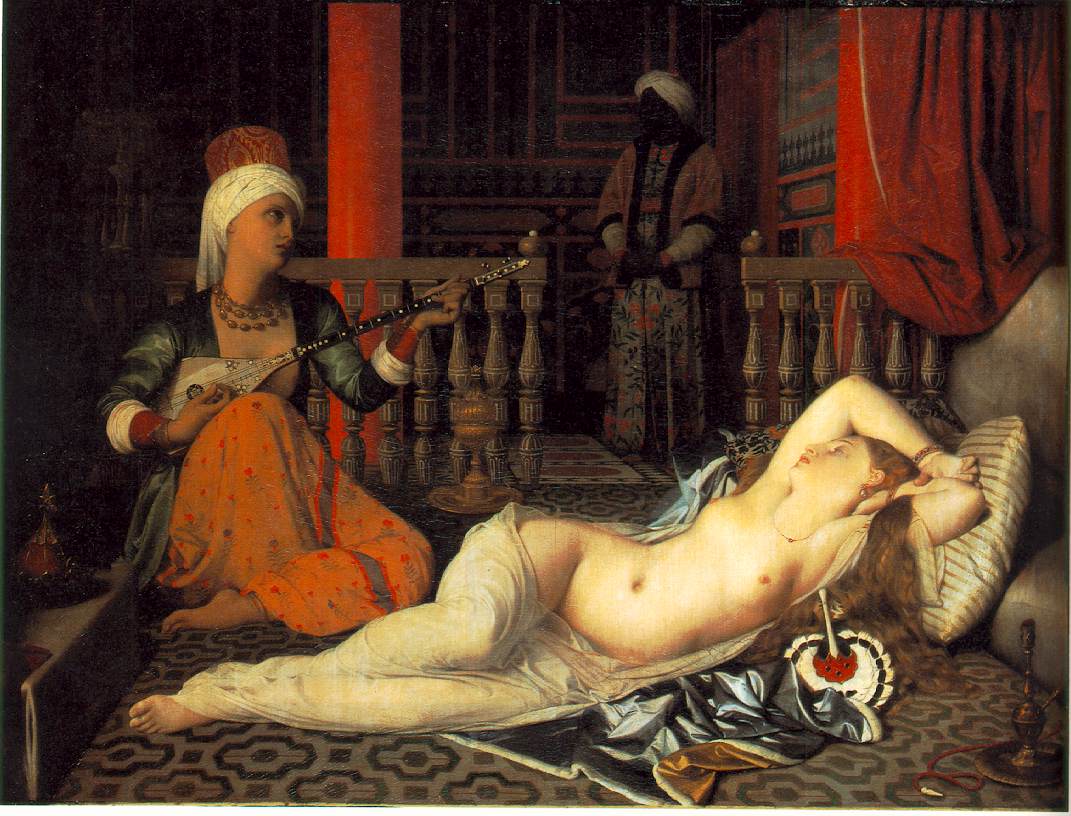 Odalisque with Slave, Ingres, 1840.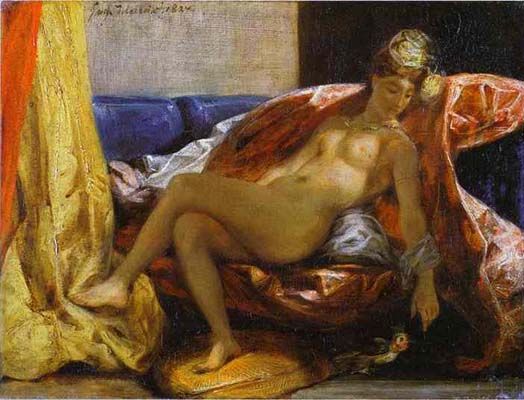 Woman with a Parrot, 1827. Eugene Delacroix, French Romantic Painter, 1798-1863.
George Sand's Garden at Nohant, Delacroix, c. 1840s. (Portable paint is invented about this time.)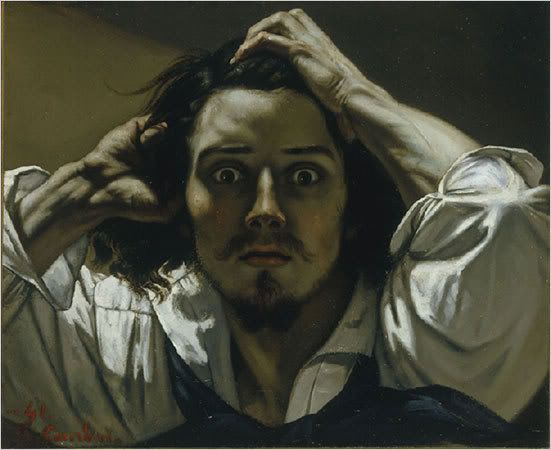 Self-Portrait or Desperate Man, c. 1843-45, Gustave Courbet, Gustave Courbet, French Realist, 1819-1877.



The Stone Breakers, Courbet, 1849-1850.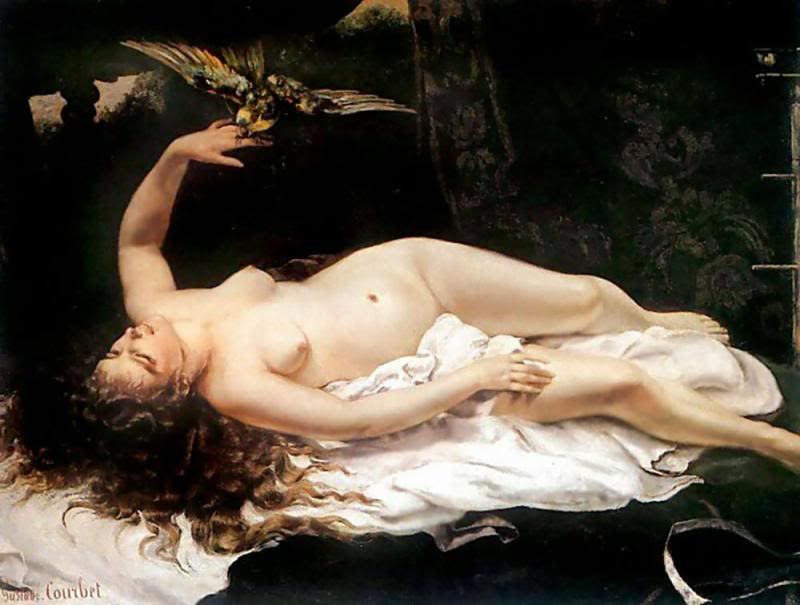 Woman with a Parrot by Courbet, 1866.
When this painting was shown in the Salon of 1866, critics censured Courbet's "lack of taste" as well as his model's "ungainly" pose and "disheveled hair." Clearly, Courbet's woman was perceived as provocative. The picture, however, was admired by contemporary artists: Cézanne seems to have carried a small photograph of it in his wallet, and in 1866 Manet began his version of the subject, Young Lady in 1866 (Woman with a Parrot) (89.21.3). [MMA]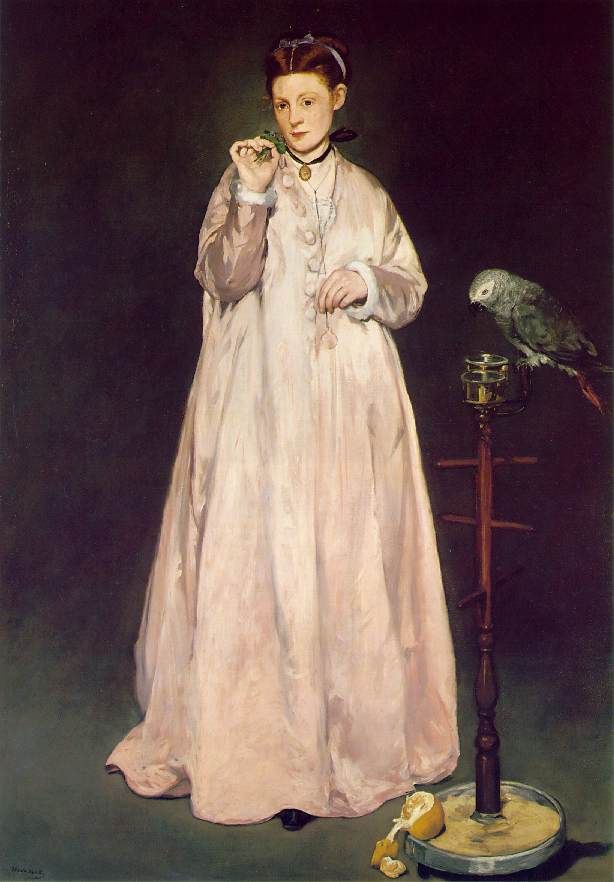 Woman with a Parrot, 1866. Edouard Manet, French Realist, 1832-1883.
The theme of a woman and her parrot-confidante has literary and pictorial antecedents. But this picture, for which Victorine Meurent posed in 1866, was probably Manet's answer to Courbet's Woman with a Parrot (29.100.57), exhibited in the Salon of 1866. When Manet's picture was shown in the Salon of 1868, one critic wrote that "he has borrowed the parrot from his friend Courbet and placed it on a perch next to a young woman in a pink peignoir. These realists are capable of anything!" Most critics ignored the subject, however, in favor of ridiculing Manet's "present vice … a sort of pantheism in which the head is esteemed no more than a slipper." The picture was exhibited on three occasions during Manet's lifetime. [MMA]
Woman with a Parrot, 1871, Pierre Auguste Renoir.
The woman holding the parrot is Pierre Auguste Renoir's friend Lise Tréhot (1848–1922), whose pretty, youthful features are recognizable in other canvases the artist painted between 1867 and 1872. He probably executed this picture soon after his return from service in the Franco-Prussian War in March 1871 and certainly before Lise married someone else in April 1872, evidently never to see Renoir again. The black silk dress with white cuffs and red sash accentuate Lise's dark hair and pale skin; the dark green walls and plants suggest a rather heavy and formal interior decorated in the Second Empire style.

According to art historian Colin B. Bailey, "In genre painting of the 1860s and 1870s, such richly dressed young women were generally assumed to be kept women—the lorette, or high-class courtesan, was a social type created during the Second Empire—and the erotic Symbolism [more] of the parrot and the gilded bird cage would have been obvious. . . . Yet Renoir's presentation of this lascivious subject is actually rather well-mannered. He avoids anecdote and innuendo, refuses to pander to the prurient beholder, and in doing so acknowledges his debt to Manet." ¹

Woman with Parrot clearly predates Renoir's Impressionist style and does not yet reflect the high-keyed tonality, shimmering patterns of light and spontaneity of mood that would characterize his later work. —SRGM

1 Colin B. Bailey, catalogue essay on Woman with Parrot, in Matthew Drutt, ed., Thannhauser: The Thannhauser Collection of the Guggenheim Museum (New York: Guggenheim Museum, 2001), p. 207. [Source]
Olympia, Manet, 1863.



Venus of Urbino, Titian, 1538.



The Absinthe Drinker, Manet, 1858-1859.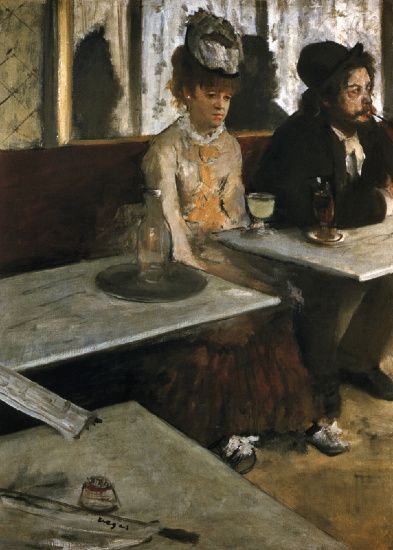 The Glass of Absinthe, 1876, Hilaire-Germain-Edgar Degas, French Realist, 1834-1917.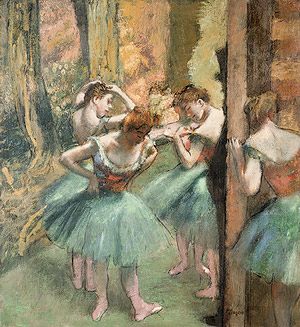 Dancers, Pink and Green, Degas, c. 1890.



Dancers in the Rehearsal Room with a Double Bass, Degas, c. 1882-1885.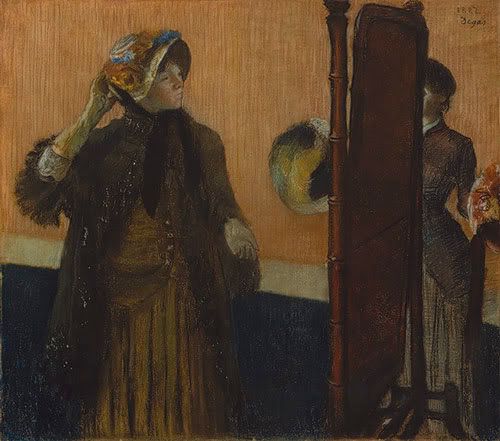 At the Milliner's, Degas, 1882. Mary Cassatt (American Impressionist) is the model here.
Mary Cassatt was the model for the customer in this work of 1882 and also for another in the milliner series (Museum of Modern Art, New York). She purportedly said that she posed for Degas "only once in a while when he finds the movement difficult, and the model cannot seem to get his idea." This pastel was shown in the last Impressionist exhibition in 1886. [Source: MMA]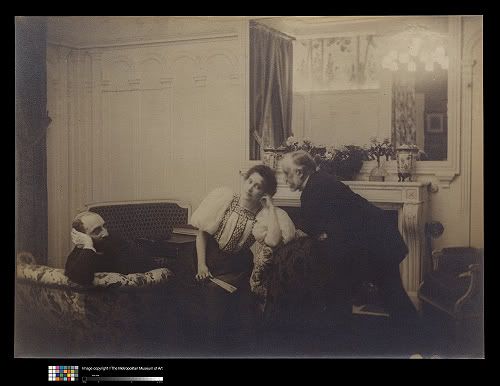 Paul Poujaud, Mme. Arthur Fontaine, and Degas, Degas, 1895.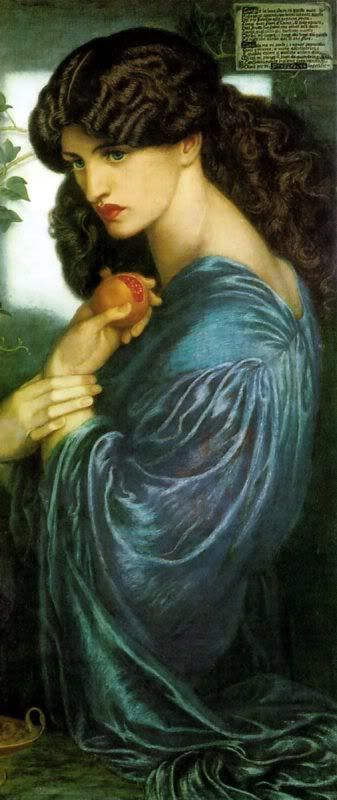 Proserpina (Persephone), 1874. Dante Gabriel Rossetti, British Pre-Raphaelite Painter, 1828-1882.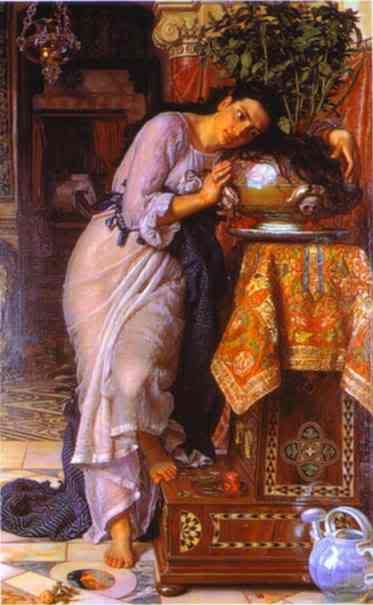 Isabella and the Pot of Basil, 1849. William Holman Hunt, British Pre-Raphaelite Painter, 1827-1910.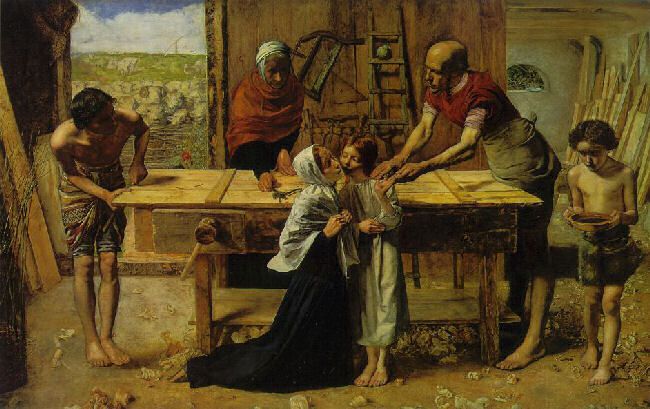 Christ in the House of His Parents, 1849-1850. Sir John Everett Millais, British Pre-Raphaelite Painter, 1829-1896.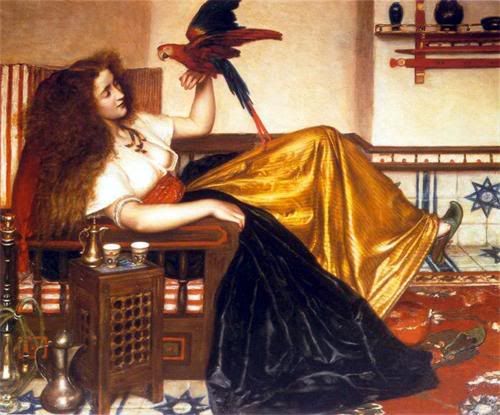 Reclining Woman with a Parrot, c. 1870. Valentine Cameron Prinsep, British Pre-Raphaelite Painter, 1838-1904.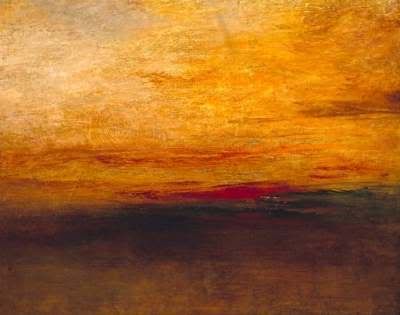 Sunset, c. 1835. JMW (John Mallord William) Turner, British Romantic Painter, 1775-1851.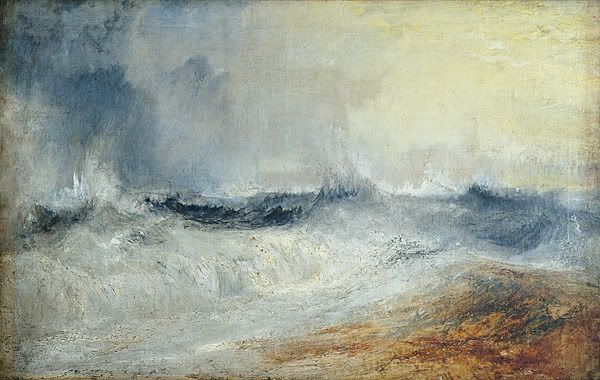 Waves Breaking Against the Wind, c. 1835, JMW Turner, 1825-1828. More information can be found here at nga.gov.au...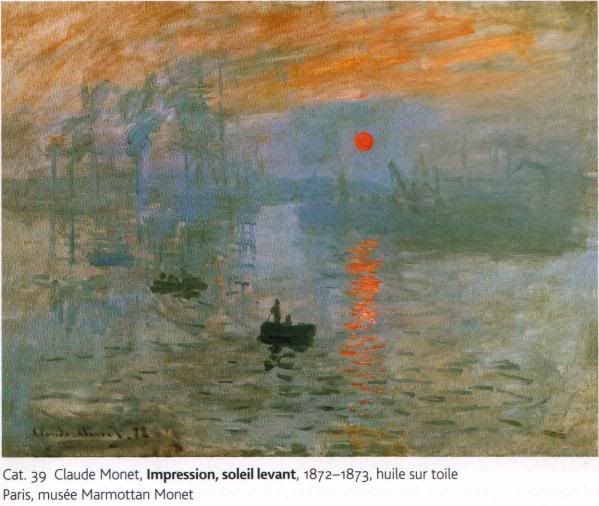 Impression, Sunrise, 1873. Claude Monet, French Impressionist Painter, 1840-1926.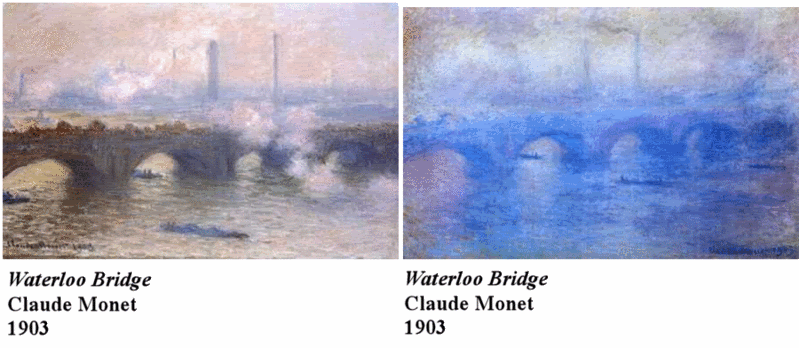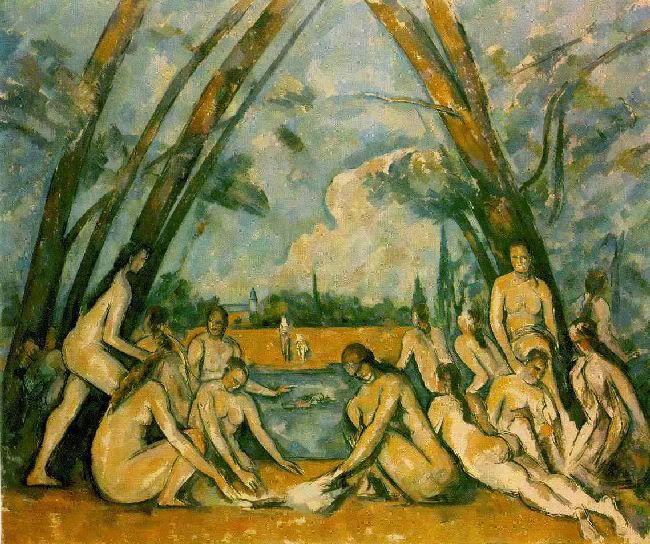 The Large Bathers, Paul Cezanne, French post-Impressionist Painter, 1839-1906.



The Starry Night, June 1889. Vincent van Gogh, Dutch Post-Impressionist, 1853-1890. More info at MoMA's website



The Potato Eaters, van Gogh, 1885.



House in a Garden, 1908. Pablo Picasso, Spanish Cubist, 1881-1973.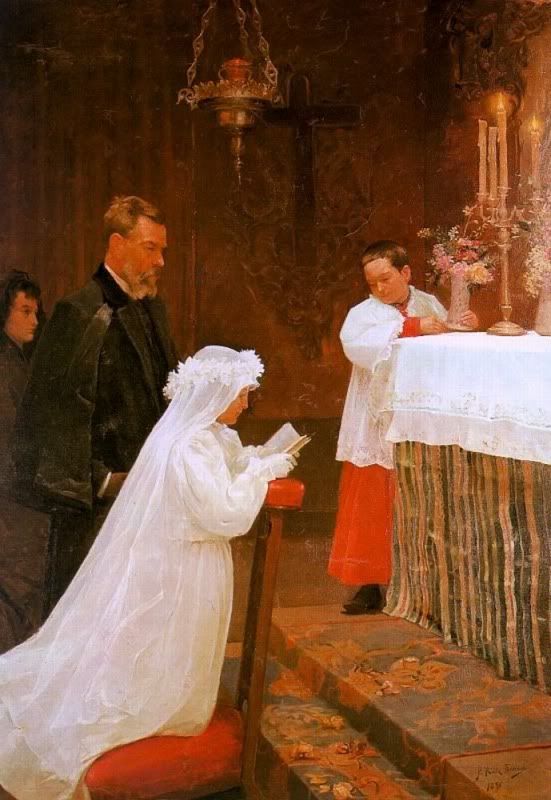 First Communion, Picasso, 1895-96. (He was 14 years old.)



Laocoon, c.1610. El Greco (the Greek) - his real name was Domenikos Theotocopoulos, Greek-born Spanish Mannerist Painter, 1541-1614.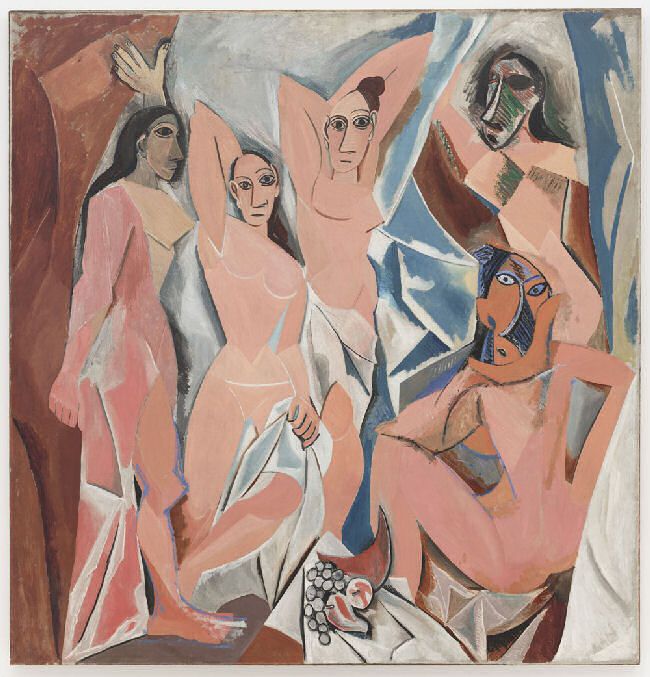 Les demoiselles d'Avignon, Picasso, 1907.
The result of months of preparation and revision, this painting revolutionized the art world when first seen in Picasso's studio. Its monumental size underscored the shocking incoherence resulting from the outright sabotage of conventional representation. Picasso drew on sources as diverse as Iberian sculpture, African tribal masks, and El Greco's painting to make this startling composition. In the preparatory studies, the figure at left was a sailor entering a brothel. Picasso, wanting no anecdotal detail to interfere with the sheer impact of the work, decided to eliminate it in the final painting. The only remaining allusion to the brothel lies in the title: Avignon was a street in Barcelona famed for its brothel.
The above info was taken from MoMA's website five years ago. The page no longer exists. For more information on Picasso, however, click here.